Welcome to our bridal section – perfect for any bride looking for inspiration for their upcoming wedding! To help plan your wedding we have provided floral tips for your wedding and Do It Yourself (DIY) videos to help brides who wish to make their own bouquets!
Floral Tips
Choose flowers that are in season – This will not only save you money but will mean you will have fresher, beautiful flowers.
Bigger doesn't always mean better – make sure the size of your bouquet compliments the dresses. A large bouquet may overshadow a simpler dress, while a small bouquet may be nearly invisible among an elaborate, bigger dress.
Simple is best – especially for your centerpieces. Keeping it simple will eliminate extra cost from work spent on intricate designs.
Know your location – Find out if your florist has done any events at your location before, they may be able to show you photos of previous arrangements. If not, get them to go take a look so they are familiar with the area they have to work with. If that isn't possible make sure you bring plenty of photos of the location so you can prepare for the space.
If you are keeping your bouquets in water be sure to dry the stems before giving them to the bridesmaids – you don't want water stains on the dresses!
For more floral tips please take a look at our floral Care & Handling page.
Learn how to create your own wedding bouquet with Amelia Roses – (Time: 10:18)
Create your own wedding bouquet with Purple Roses – (Time: 6:49)
Create your own wedding bouquet with Gerbera Dasies – (Time: 7:10)
Create your own wedding bouquet with White Chocolate Roses – (Time: 9:11)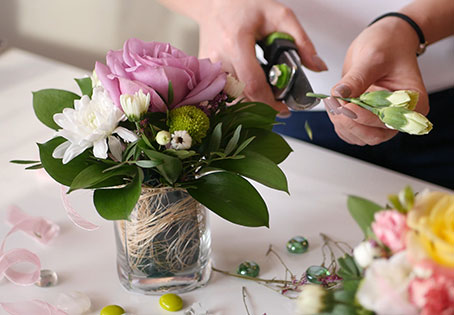 Sign Up for a Zoom Workshop!
Prevent Porch Piracy
Did you know you can have your parcels delivered to our store address? We'll keep them safe until you get here and there is no charge for this service.
This service is provided at no additional cost to you, but we appreciate small donations in our local community charity box!