"Janet! OMG!!! Your flowers were PERFECTION. They exceeded my expectations. I absolutely LOVED my bouquet and the flowers on the table and on the cake and the corsage and the bouts…I loved everything! Just amazing and I had so many compliments on them. Thank you so much!"
"You recently received an order from my sister to make something special for my birthday. You made a piece of cake from flowers on July 12. It is now July 18 and the arrangement still looks fantastic. It is very unique and I have enjoyed it very much. Ty for your creativity. Great job."
"The flower arrangements for Richard at Comstocks Kaye Funeral Home, that you prepared, were absolutely beautiful. There was many compliments from the people who attended especially the gasket spray blanket. Thanks again for the wonderful flower arrangements."
"WOW!–are they beautiful or what? My family certainly surprised me-just wonderful."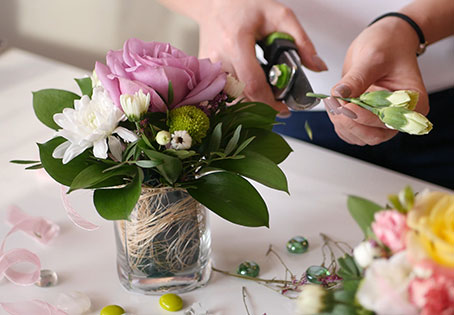 Sign Up for a Zoom Workshop!
Prevent Porch Piracy
Did you know you can have your parcels delivered to our store address? We'll keep them safe until you get here and there is no charge for this service.
This service is provided at no additional cost to you, but we appreciate small donations in our local community charity box!