Here's some tips from Flowers Canada, the professional florist's association, to help you keep your flowers looking great for as long as possible!
Click here to quickly go to 
FAQ
 section
Choose flowers like fresh produce
Look for blooms that are just starting to open, have firm stems, healthy leaves and erect, vibrant petals.
Ask for flowers in season
Thanks to the diversity of the global garden, most flowers have year-round availability. But a cut tulip in November won't be as vibrant or as long-lasting as the May version, and will certainly be more costly.
Trim the stems of hand-tied or loose boxed flowers
Flowers are 90% water and need a constant source of hydration to ensure their longevity. If the stems have been out of water for even a short time, the dried ends will inhibit water uptake. Trim on the diagonal with a sharp knife or shears before placing in a clean vase, filled with warm water and cut flower food.
Feed your flowers daily
Florist flowers that come in a vase or a floral foam container have been pre-treated with products that keep the water clear, clean and odourless, inhibit bacterial growth and promote flower blossoming. However, further treatment is recommended to extend the life of the flowers. Simply dissolve the contents of the flower food sachet in fresh water in a watering container and top up your flower container daily.
Give your flowers space
Display in a cool, draft-free location, away from harsh sunlight and heat vents. Don't set flowers on top of a TV or stereo.
Replace or remove wilted flowers
Some flowers like the delicate iris live only a few days while flowers like chrysanthemums and carnations almost survive on neglect. Remove any wilted flowers as soon as possible to prevent accelerated deterioration. (Flowers are like apples; one bad one can spoil the container.) A professional arrangement is designed from the inside out and therefore should be able to withstand the absence of the more short-lived varieties. Better still, add fresh new flowers.
Reuse the greens
Foliage is the secret ingredient in lush, full professionally designed arrangements or bouquets. Many types of greens will last up to six weeks. Just trim the stems and use them again with new cut flowers.
Bent neck roses
A bent neck rose is a sign that the bloom is not drawing enough water. To correct the problem, try re-cutting the stem a few inches with sharp shears or a knife while holding the stem end under water. Then, straighten the rose and lay in a tub of lukewarm water for about an hour, before returning to your arrangement.
Looking for the Perfect Gift?
Our most unforgettable gift, the Monthly Flowers Subscription provides your recipient with a special surprise every month! Our best seasonal flowers are hand-selected to create a unique and custom bouquet. Choose from 3, 6, and 12-month subscriptions at a variety of price points. We will include a special note telling them of your incredible gift with their first delivery.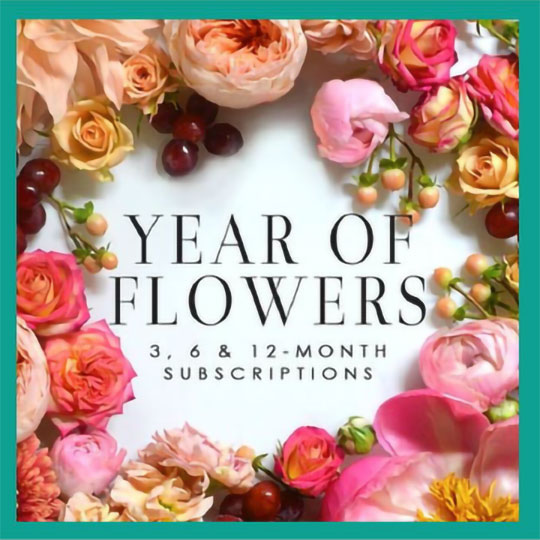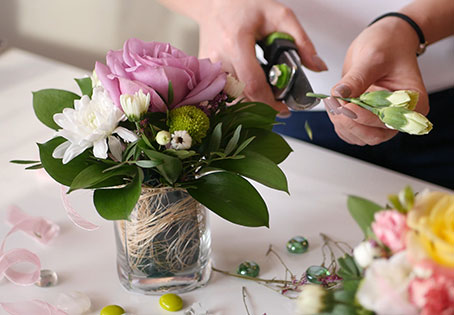 Sign Up for a Zoom Workshop!
Prevent Porch Piracy
Did you know you can have your parcels delivered to our store address? We'll keep them safe until you get here and there is no charge for this service.
This service is provided at no additional cost to you, but we appreciate small donations in our local community charity box!