East City Flower Shop has been an integral Peterborough flower shop since 1957. Janet McLeod has proudly held the position of President since 1977, developing the business over time to become the premier online flower delivery service in the area.
East City Flower Shop's florists can help you select from our wide variety of fresh cut flowers, beautiful flowering plants as well as green plants, fruit and gourmet baskets, as well as, funeral flowers. We offer three different price packages: standard, deluxe, and premium. The price of an arrangement is determined by the quality, the number and variety of flowers plus the size and/or the cost of the container.
For an arrangement or bouquet of a single flower variety such as roses, "Premium" includes stems of a supporting blossom such as babies breath, wax flower, heather or aster.
At East City Flower Shop, we believe there is a fresh bouquet/arrangement or gift basket for every budget. If you wish to spend more or less, simply contact us. Our professional design staff will give you valuable suggestions and viable alternatives. Please ask us about our flower delivery services.
Our Professional Qualifications
In 1995, Janet became Canada's eighth Canadian Accredited Master Florist, having successfully completed exams in both floral design and floral management.
Because of our close association with FTD we are able to send any of these items around the corner or around the world. Dutch and Exotic flowers are always in abundance; Creative and imaginative designs are commonplace.
The friendly staff is always available to make suggestions and educated recommendations. East City Flower Shop is also an active community supporter and participate actively in Flowers Canada. Quality flowers, friendly service and knowledgeable staff make it easy to choose East City Flower Shop for moments when you care.
Our Guarantee
We strive to ensure that every product we sell is of both the freshest and the very best quality we can purchase. However, our floral products are perishable and are affected by factors such as temperature, storage conditions, seasonality and regional availability.
If you are not completely satisfied with any item, even if you received it as a gift, please give us a call within 96 hours and we will be pleased to replace it.
Simply e-mail or call with details of your order and the problem. Any concerns will be promptly addressed and resolved to your complete satisfaction.
Watch this great video of our former location that Will Cuthbert created and designed!
We hope you love it as much as we do!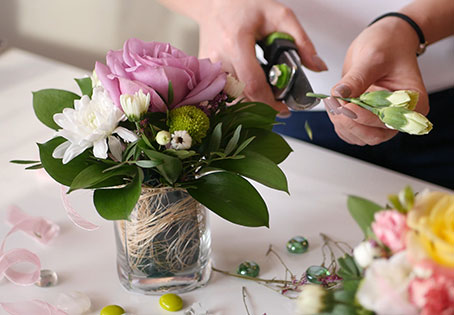 Sign Up for a Zoom Workshop!
Prevent Porch Piracy
Did you know you can have your parcels delivered to our store address? We'll keep them safe until you get here and there is no charge for this service.
This service is provided at no additional cost to you, but we appreciate small donations in our local community charity box!